What is all natural?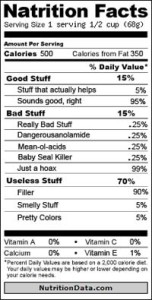 In the world of cosmetics, there are truly no such things as "all-natural" cosmetics. They don't exist, and if they did they would not be good for the skin.
Whatever preconceived or media-induced fiction you might believe about natural ingredients being better for the skin has no factual basis or scientific legitimacy. Not only is the definition of "natural" hazy, but the term isn't even regulated, so each cosmetics company can use it to mean something different. "If a company wants to call their products natural, it can, and it doesn't matter what they contain. [The] FDA has tried to establish official definitions for the use of certain terms such as 'natural…' but its regulations were overturned in court. So companies can use them on cosmetic labels to mean anything or nothing at all. Most of the terms have considerable market value in promoting cosmetic products to consumers, but dermatologists say they have very little medical meaning" (Source: FDA Consumer Magazine, August 2000).
Further, the 1999 November-December issue of Consumer Magazine stated: "Don't be fooled by the term 'natural.' It's often used in health fraud as an attention-grabber; it suggests a product is safer than conventional treatments. But the term doesn't necessarily equate to safety because some plants … can kill when ingested…. And, any product—synthetic or natural—potent enough to work like a drug is going to be potent enough to cause side effects."
So what is a "natural" cosmetic? Good question. It can mean anything and nothing. For most cosmetics companies it means including plant extracts in their formulations along with an array of synthetic ingredients.
Even if an "all-natural" product did exist, you wouldn't want to use it on your skin anyway. Think about a bunch of plants, fruits, or vegetables sitting in your refrigerator (or bathroom for that matter). What would happen if they didn't contain preservatives? In just a few days they would become moldy and disgusting. In contrast, skin-care products contain very "unnatural"-sounding preservatives, and that's great. According to many cosmetics chemists, a reliable preservative system helps avoid the risk of microbial contamination, which could cause problems for the eyes, lips, and skin.
Many natural ingredients can cause allergies, irritation, and skin sensitivities. Just think of how many people have a hay fever response to a wide variety of plants, and that these plants often show up in cosmetics. Citrus often shows up in skin-care products, but most of us have gotten lemon on a slight cut while cooking and know it burns like crazy because it's irritating to skin. "Natural" doesn't tell you anything about the efficacy of the ingredients in a product.
Hanging on to the notion that "natural" equals good skin-care or better makeup products will waste your money and probably hurt your skin. I'm not sure if the majority of women who buy cosmetics are ever going to believe this. For many women, it's hard to resist the pressure to believe the lie about natural products being better for the skin. What makes this natural craze so annoying and undesirable is that it perpetuates myths that can hurt a woman's skin. All of the following natural ingredients can cause skin irritation, allergic reactions, skin sensitivity, and/or sun sensitivity: almond extract, allspice, angelica, arnica, balm mint oil, balsam, basil, bergamot, cinnamon, citrus, clove, clover blossom, cocoa butter, cornstarch, coriander oil, cottonseed oil, fennel, fir needle, geranium oil, grapefruit, horsetail, lavender oil, lemon, lemongrass, lime, marjoram, lemon balm, oak bark, papaya, peppermint, rosemary, sage, tea tree oil, thyme, witch hazel, and wintergreen. The label might say natural, but you could be buying a purely irritating product that might cause an allergic reaction.
Furthermore, the notion that natural ingredients are better than synthetic ingredients is even more distressing, because it just isn't true. While vegetable or plant oils may sound better for the skin, varying forms of silicones are just as beneficial and offer impressive benefits for the skin. But it's hard to glamorize and advertise a "synthetic," unnatural-sounding ingredient.
I'm not saying there aren't some natural-sounding ingredients that are exceptional for the skin, because there are—lots of them—but the idea that they are the "best option" or are still natural once they have been extracted from their source and mixed into a cosmetic is ludicrous.
So what's
truly GOOD
& what's
really BAD
?
Aloe Vera

–

It's been known throughout history to have medicinal properties, used to cure various ailments and nowadays, the myths surrounding it that go back 5,000 years to the ancient Chinese, Egyptians and Greeks are no longer myths but medical fact. Scientists have found that the Aloe Vera gel is a mixture of antibiotic, astringent, coagulating agent, pain inhibitor, cell growth stimulator and scar inhibitor. It contains a total of 70 "essential ingredients" including most vitamins including B12, minerals, enzymes, protein and amino acids. You can even buy it in a form which can be drunk and is used to help against asthma, insomnia, indigestion, heartburn, constipation, hemorrhoids and ulcers to name but a few. The plant's gel not only helps to heal scars and damaged skin tissue but it can also heal itself! The leaves have no stalks or woody parts and are kept upright by the water pressure of the gel. A leaf, slashed across with a sharp knife, first spurts out its "lifeblood" as the flesh on its leaf is opened. A few seconds later the wound films over. The next few minutes a rubber-like, protective coating effectively seals off loss of water. In a short time, the wound heals completely. The plant contains a wound healing substance that does this.

Beeswax

– Beeswax is a truly amazing substance! It has an almost indefinite shelf life – beeswax found in ancient Egyptian tombs has retained its pliability even after thousands of years. Its beautiful natural color and sweet scent need no chemical enhancement. Beeswax is made by worker bees. The rich color of beeswax is a result of the floral sources the bees forage on. Beeswax is almost pure white when first secreted, but gets its color from the pollen and propolis the bees gather. The natural variations in color range from almost white to almost black. Because of it's holding and protective properties it is believed to have antioxidant properties.

Hemp Seed Oil – From the hemp plant, Cannabis sativa. Because both hemp and marijuana are from the genus Cannabis, they are often thought (erroneously) to have similar properties. Yet because hemp contains virtually no THC (delta-9-tetrahydrocannabinol), the active ingredient in marijuana, it is not used as a drug of any kind. In cosmetics, hemp seed oil is used as an emollient (A substance added to a formulation that gives it softening ability.)
Mineral Oil

– The notion that mineral oil is bad for skin has been around for some time, with Aveda being the most visible company to mount a crusade deriding these ingredients. According to many companies that produce "natural" cosmetics, mineral oil is a terrible ingredient because it comes from crude oil and is used in industry as metal-cutting fluid (among other uses) and, therefore, can harm the skin by forming an oil film and suffocating it. This foolish, recurring misinformation about mineral oil is maddening. After all, crude oil is as natural as any other earth-derived substance.

Cosmetics-grade mineral oil is considered the safest, most nonirritating moisturizing ingredients ever found (Sources: Cosmetics & Toiletries, January 2001, page 79; Cosmetic Dermatology, September 2000, pages 44–46). Yes, it can keep air off the skin to some extent, but that's what a good antioxidant is supposed to do; they don't suffocate skin! Moreover, mineral oil is known for being efficacious in wound healing, and are also considered to be among the most effective moisturizing ingredients available (Source: Cosmetics & Toiletries, February 1998, pages 33–40).
Olive Oil

– Used as an emollient and thickening agent in cosmetics.
PEG – PEG stands for polyethylene glycol. Various forms of PEG compounds are mixed with fatty acids and fatty alcohols to create a variety of substances that have diverse functions in cosmetics, including surfactants, binding agents (to keep ingredients blended), stabilizers, and emollients. The only negative research for this ingredient indicates that large quantities given orally to rats can cause tumors.
Peppermint – Both the oil and the extract can have antimicrobial properties but it can also have an irritating, sensitizing effect on skin. Peppermint is a counter-irritant. Counter-irritants are used to induce local inflammation for the purpose of relieving inflammation in deeper or adjacent tissues. In other words, they substitute one kind of inflammation for another, which is never good for skin. Irritation or inflammation, no matter what causes it or how it happens, impairs the skin's immune and healing response. And although your skin may not show it, or doesn't react in an irritated fashion, if you apply irritants to your skin the damage is still taking place and is ongoing, so it adds up over time.
Sodium Lauryl Sulfate or Sodium Laureth Sulfate

(SLS)  (SLES)
Possibly one of the largest internet hoax of the late 1990's. We have found the source of the ridiculous claim that sodium laureth sulfate causes cancer. This falsehood is being propagated by a company called

Neways International

. I encourage all who read this message to spread the word about this immoral marketing practice. To capitalize on people's justifiable fear of this terrible disease to sell a commodity product like shampoo is shameful at best.

 

We have collected some quotes from various medical professionals that discredit Neways Marketing scam.

"I am experienced in the personal care industry, and am very familiar with the safety and toxicology testing done on SLES. Without a doubt, this chemical DOES NOT cause cancer in animals or humans. SLES and its unethoxylated sister, sodium lauryl sulfate, are used in shampoos, soaps, body washes, and other products you find in the home. These are synthetic detergents. They are not foaming agents. These chemicals, in their undiluted form, are irritating to the skin and eye. They are used at very low concentrations (around 1%) in most formulas. At this percentage, they provide effective cleansing without being irritating to the skin and scalp."

Sodium Lauryl Sulfate — Not a Cancer Risk

"I'm a medical doctor, board-certified in both anatomic and clinical pathology. I operate the world's largest free online personalized health information service. I have gotten at least twenty inquiries about the sodium lauryl sulfate E-mail campaign. The author claims that sodium lauryl sulfate, a detergent found in some shampoos and toothpastes, causes cancer in laboratory studies using animals.

Life has taught me not to attribute to malice what is adequately explained by stupidity. This one's a misunderstanding. Here's the truth:
Sodium lauryl sulfate is routinely used to solubilize chemicals used in cancer experiments prior to injecting them into test animals. Somebody read the list of substances injected, and mistook the solubilizer for the active ingredient.

You may use your shampoo and toothpaste without worrying about sodium lauryl sulfate."

Ed Friedlander, M.D., Pathologist
Extracted from: http://worldmall.com/erf/sls.htm

"Sodium Laureth Sulphate (SLS) – Internet Hoax A letter has been circulating the internet which claims that there is a link between cancer and sodium laureth (or lauryl) sulphate (SLS), an ingredient used in shampoos and toothpastes. Health Canada has looked into the matter and has found no scientific evidence to suggest that SLS causes cancer. It has a history of safe use in Canada.

Upon further investigation, it was discovered that this e-mail warning is a hoax. The letter is signed by a person at the University of Pennsylvania Health System and includes a phone number. Health Canada contacted the University of Pennsylvania Health System and found that it is not the author of the sodium laureth sulphate warning and does not endorse any link between SLS and cancer."

Health Canada considers SLS safe for use in cosmetics. Therefore, you can continue to use cosmetics containing SLS without worry." — This is directly from the Canadian Health and Welfare Website (similar to USA FDA)
"I am a pharmaceutical chemist with a Ph.D. in Chemistry, and have spent some time searching the internet for a well-designed, legitimate clinical study which demonstrates a correlation between cancer and either sodium lauryl sulfate (SLS) or sodium laureth sulfate (SLES), and have found nothing. This is not unexpected since these compounds are simply mild detergents which help to dislodge and/or dissolve dirt, oils and protein during the cleaning process.

In the meantime, please don't waste your money on cheap marketing tricks, and don't throw away a perfectly good product because of some snake-oil company's spurious claims. It appears that some unscrupulous marketing shills have been upsetting many people and trying to sell their products by spreading these ridiculous rumors."

To learn more about ingredient hoaxes visit this page: http://www.cosmeticcop.com/learn/article.asp?PAGETYPE=ART&REFER=SKIN&ID=30
Synthetic Fragrances

–

One or a blend of either volatile and/or fragrant plant oils that impart aroma and odor to products. These are often skin irritants.
Synthetic Colors – Inorganic pigments (of various colors) permanently listed by the FDA for external use only, including around the eye area.
Tea Tree Oil – Also known as melaleuca, from the name of its plant source, Melaleuca alternifolia. It can have disinfecting properties that have been shown to be effective against the bacteria that cause blemishes. Concentrations of 5% to 10% are recommended. However, the amount found in most skin-care products is usually less than 1% and, therefore, considered not to be effective for disinfecting.
Witch Hazel

– Can have potent antioxidant properties some anti-irritant properties. However, according to the Consumer's Dictionary of Cosmetic Ingredients, Fifth Edition, Ruth Winter, 1995, Random House), "Witch hazel can have an ethanol [alcohol] content of 70 to 80 percent. Witch hazel water … contains 15% ethanol." The alcohol can be an irritant. Witch hazel also has a high tannin content (and tannin is a potent antioxidant), which can also be irritating when used repeatedly on skin, though when used for initial swelling from burns it can reduce inflammation.